We're Open For Pours & Takeout!
Our Taproom is open for pours! Our Patio / Biergarten is available weather permitting for additional outdoor seating.
A rotating selection of our beers are available in 16oz cans. Or, you can get a 750ml Luppoleto Growler filled with any beer on tap!
We continue to offer cans for Curbside Pickup whenever the Taproom is open.
Our Regular Hours
We're closed Monday & Tuesday for Brewing Operations.
Two Sizes, No Flights
We offer 2 sizes: a "Pint" and "Half-Pint". These are actually poured into glassware that has been sized to accomodate head/foam and your pours include MORE than a pint and more than a half-pint of beer.
We do not currently offer flights.
Growler Fills
We are currently operating our growler program as a swap. If you own a Luppoleto growler, simply bring in your clean (rinsed & free of debris inside) growler and we will swap it for a clean & sanitzed growler filled with ANY beer on tap. That's right, one of the perks of growlers is you get anything on tap not just the limited menu available in cans.
All returned growlers are run through a rigorous cleaning & sanitizing regimen to ensure they are safe to use again.
Food
We regularly stock snacks from Drunk Alpaca, scratch-baked giant brioche pretzels Hartford Baking Co. We've also added a regular rotation of food trucks to compliment our neighboring restaurants: Moon Star and Pizza Time. Or you can bring your own food.
Drinks, Other Than Beer…
Alongside our house brewed beer we offer a selection of Connecticut-Made sodas from Hosmer Mountain Soda, Cider from Connecticut Cideries New England Cider and Spoke + Spy Ciderworks. Along with a Red & White Wine options. For details, check our Beer Alternatives page.
Pet Policy
Unfortunately, per our local health board, pets are not permitted in the taproom :-(
When the Biergarten is open, well-behaved, leashed pets are permitted.
---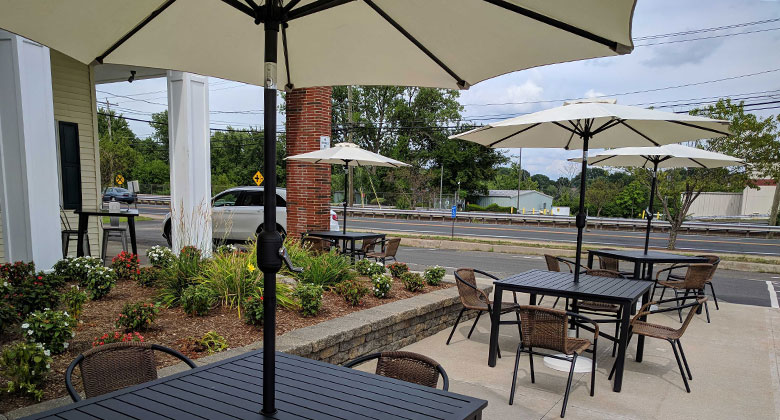 Patio / Biergarten
---
Available May thru October
As of November 1st, the Biergarten will generally be CLOSED for the Season. We will occasionally open on an unseasonably warm day. Check social media for the latest.
---
During Regular Taproom hours, we will usually have outdoor seating available in the small patio area towards the front of the plaza; we're calling it a Biergarten as that sounds far more exotic & desirable. So whenever we can open the Biergarten (weather permitting) we will post on our Social Media accounts to let you know!
---