Come visit our spacious Windsor Locks taproom serving 11 house brewed beers plus a wide range of Connecticut-made beverages to slake your thirst. If you're hungry, we curate a steady rotation of food trucks to compliment the neighboring takeout options and packaged beer-friendly snacks.
Our Taproom itself is part European bierhall, part cozy living room. Our long communal tables evoke a Bavarian vibe while our plethora of plants, rugs and couches provide a softer place to lounge if that's more your mood. From Spring to Early Autumn, enjoy a beer "al fresco" on the patio just outside the taproom (weather permitting).
---
Our Regular Hours
We're closed Monday & Tuesday for Brewing Operations.
Our Location
Our taproom is located in North Central Connecticut, just off RT-91 in the same town as Bradley International Airport:
Dexter Plaza
20 Main Street
Windsor Locks, CT 06096
---
Beer for Here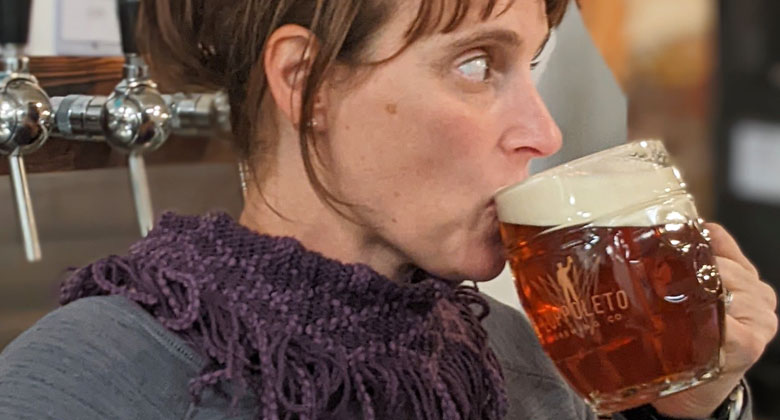 We offer 2 sizes: Pint and Half-Pint. Our glassware is sized to accommodate a two-finger high foam head atop your beer and still include MORE than a pint / half-pint of beer.
Samples: Yes! Flights: No. Our beertenders are here to help you find a beverage you love. Try samples, for free, and give us feedback so we can guide you towards the best beverage for you.
To enhance your beer drinking pleasure we have a number of fun beer service toys!
Lukr Side-pull Faucet for uniquely creamy texture
Angram English Hand Pump for Cask / Pub Style Ales (the original Nitro)
Nitro Faucet for mimicking the hand pump but in a way we can serve it for more than 1 day
Beer To Go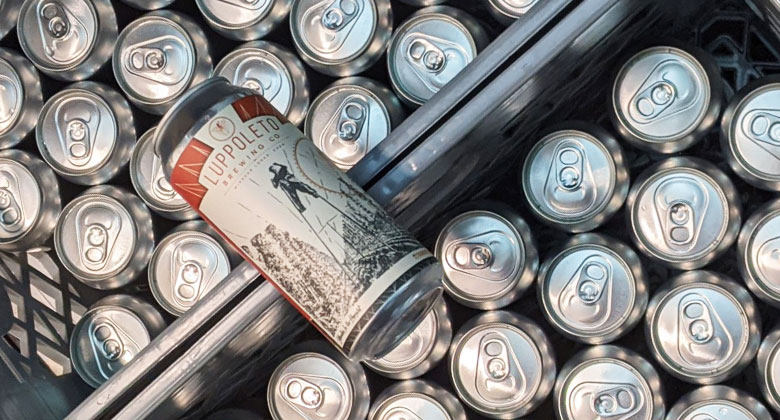 Cans
We offer a rotating selection of cans. Check our Online Shop for the latest inventory.
While we don't have a proper canning line, we use a Co2 purge, bottom-fill & cap on foam method that is very similar to what happens during a large-scale canning process. It's just much slower.
Each week, we package up just a few cases of the beers we have in abundance. Our cans are kept cold during the whole process so they should have a 3-4 week lifespan for optimal flavor.
When a particular beer starts running low, we stop canning that it to ensure that we keep a nice variety available for taproom pours.
Growlers
If you buy a 750ml Luppoleto Growler, you can take home ANY beer we have on tap. Whether we've stopped canning because we're near the end of a particular batch or you're after a super small batch PROVA, your Luppoleto Growler grants you access to take home ANY beer on tap.
Non-Beer Beverages
Alongside our house brewed beer we offer a selection of Connecticut-Made beverages.
Cider from New England Cider
Wine from Lost Acres and Kirby Mill Winery
Cocktails from Drink Mechanics
Sodas from Hosmer Mountain Soda
NA Beer from Athletic Brewing
PLUS: House-made Cocktails (Wednesdays) and house-made Sangria (most Saturdays).
For details, see the full list of Beer Alternatives.
Food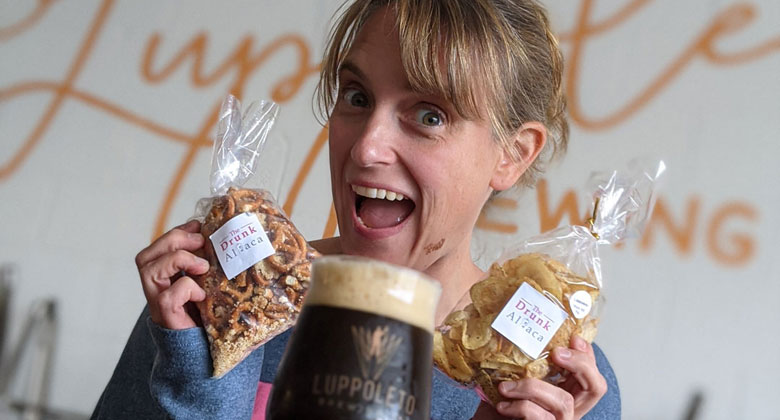 We host a steady rotation of food trucks to complement our neighboring restaurants: Moon Star and Pizza Time. We also regularly stock snacks from Drunk Alpaca and scratch-baked giant brioche pretzels Hartford Baking Co.
Or you can always bring your own food.
The Vibes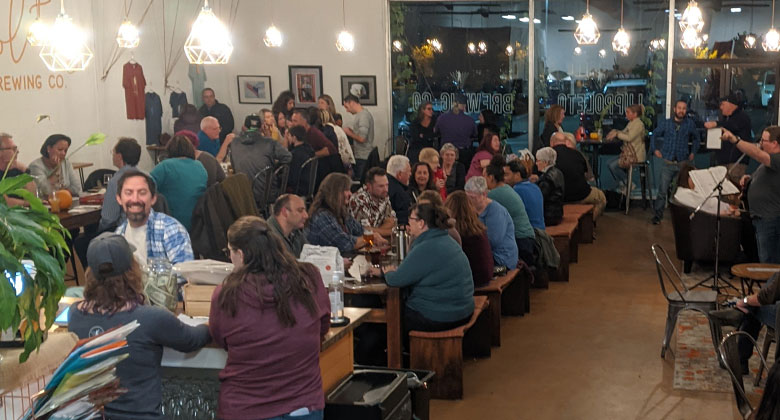 There are plenty of sports bars. There's nothing wrong with sports bars, but we decided to experiment with a contrasting experience; ideally one that facilitates more conversation and camaraderie.
This is also the reason behind the communal seating. Most of the breweries we visited in Germany had this arrangement and we had some great random encounters with strangers! Sharing a slice of table or bench might not seem like much but, if you're open to it, you may make similarly serendipitious connections!
Pet Policy
Unfortunately, per our local health board, pets are not permitted in the taproom :-(
When the Patio is open, well-behaved, leashed pets are permitted.
The Patio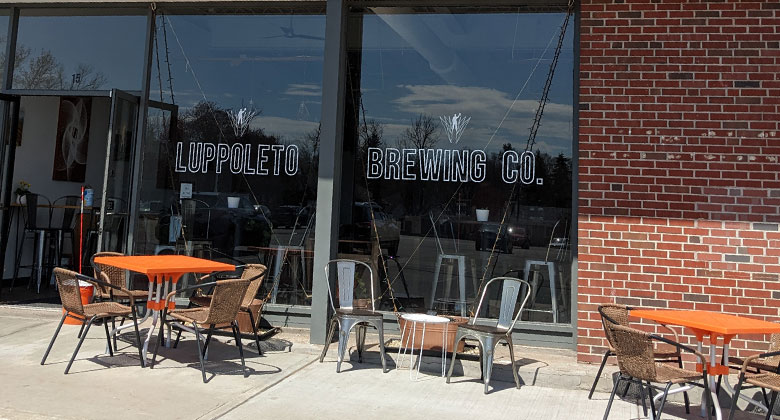 Enjoy beer "al fresco" in our smaller but closer, faster and glass-ier patio! That's right, as an added perk, we'll serve in glasses rather than plastic! During Regular Taproom hours, we'll usually have outdoor seating available in the area directly in front of the brewery. Refills are just a few steps away!
Available Mid-April thru October
As of April 11th, the Patio is generally OPEN for the Season.
We will occasionally close on a rainy or especially cold day. Check social media for the latest.
What happened to the old "Biergarten"?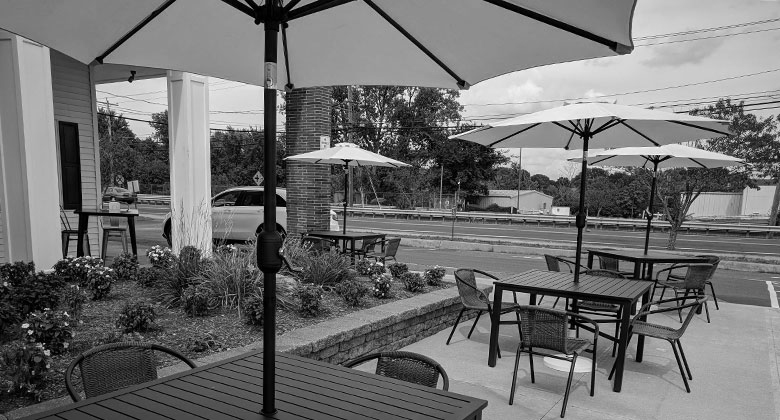 We used to setup tables at the end of the plaza - around the garden - that we dubbed "The Biergarten". We've decided to stop using that space for the moment. There were many factors that went into this decision; not the least of which is the sad state of our tables (the winter / salt was not kind). But the primary motivation is we hear rumblings the old bank spot is getting a new tenant. So we are making the proactive move to the closer outdoor seating area.
---