Once again, we've convinced Rich, Ellen & Kenny to fire up their smoker for the Big Game!
***UPDATE - The deadline has passed to order meat combos (it's heading to the smoker soon!) but you can still order sides & cornbread.***
We're proud to present the Rolling Smokehouse + Luppoleto Gameday Menu!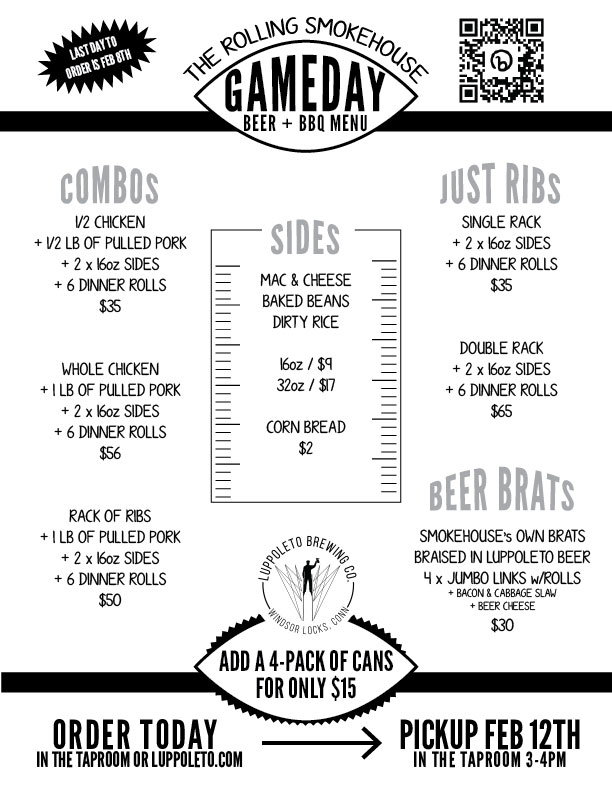 Choose your meal from ribs, smoked chicken, pulled pork and new this year their amazing hand-made brats with a selection of sides & sauces. Plus you can add a 4-pack of Luppoleto beer to any meal for only $15.
Order NOW for pickup in the Taproom on Sunday February 12th between 3-4 pm.
All food will come with reheating instructions and sauce on the side & orders must be received by Wednesday February 8th.
Have questions? Contact Us and we will accumulate Frequently Asked Questions here.
FAQ'S
Do I have to order ahead of time? Can I just come on Sunday and buy something?
We may have a few extra items on Sunday, but don't count on it. Orders must be placed by Feb. 8th.
Do I have to get beer?
No. We'd like it if you did but we're also happy you are supporting our friends at Rolling Smokehouse. They have been great to us.