Join us Friday, October 27th for our 3rd Annual Halloween Party!
Spppoooky Beverages
Come in Costume…or not
Costumes are encouraged! Come in costume and get beer discounts, plus you can enter to win Prizes for the best costume!
If costumes aren't your thing, feel free to come as you are and just take in the spectacle!
---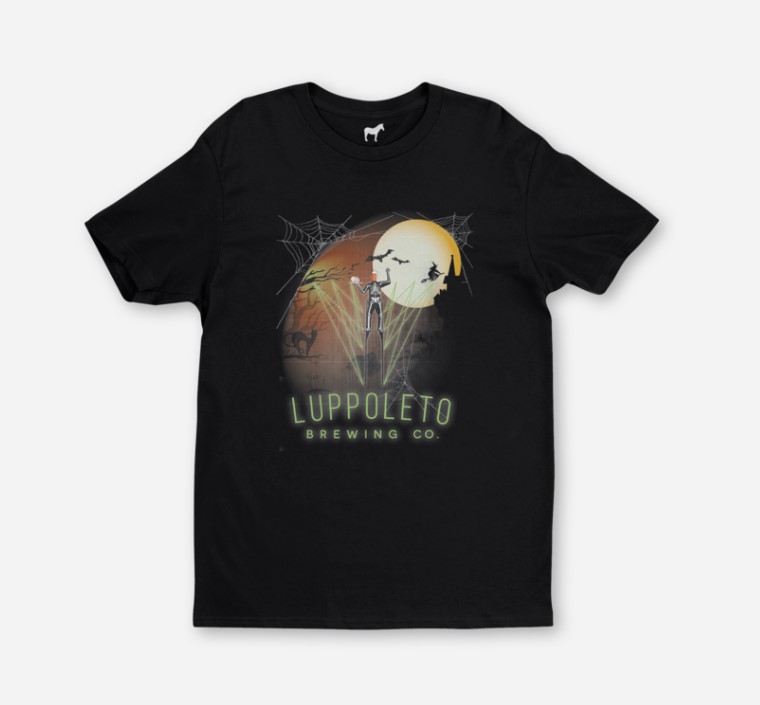 Headless Stiltwalker Tee
The Luppoleto Stiltwalker has lost his head, and replaced it with beer...with some head. So not entirely headless I suppose. These Special Edition T-Shirts won't last long!
---
Headless Stiltwalker Limited Edition Tee!
Looking for another way to show that Halloween spirit? How 'bout some limited edition Luppoleto Gear! It all started when Danielle, said we should put our "Headless Stiltwalker" graphic on a t-shirt. I ordered her one as a gift and it came out better than expected. Soon our staff requested these shirts and now…we have a very limited number of them available for you!
Halloween Themed Trivia
At 7PM Quiz-o-Matic will be leading a special edition of spoooky Halloween-themed trivia!
Food
King of Pearl will be here slinging their signature Philly-Cheesesteaks!
More details coming soon….In the meantime I leave you with these festive photos of last year's beertenders Ali and Meagan delivering perfect pours in the Halloween spirit!