Frosty weather has forced most of our local food trucks into hibernation for the winter so we've been brainstorming ways to ensure you can enjoy your food truck favorites during the off season.
We decided we might be able to convince Rich, Ellen & Kenny to fire up their smoker for the Big Game! We're proud to present the Rolling Smokehouse + Luppoleto Gameday Menu!
UPDATE: The Ordering deadline has passed, but you can still order Cans to Go and the Rolling Smokehouse may have some extra BBQ options available for sale on Sunday if you stop in to the Taproom.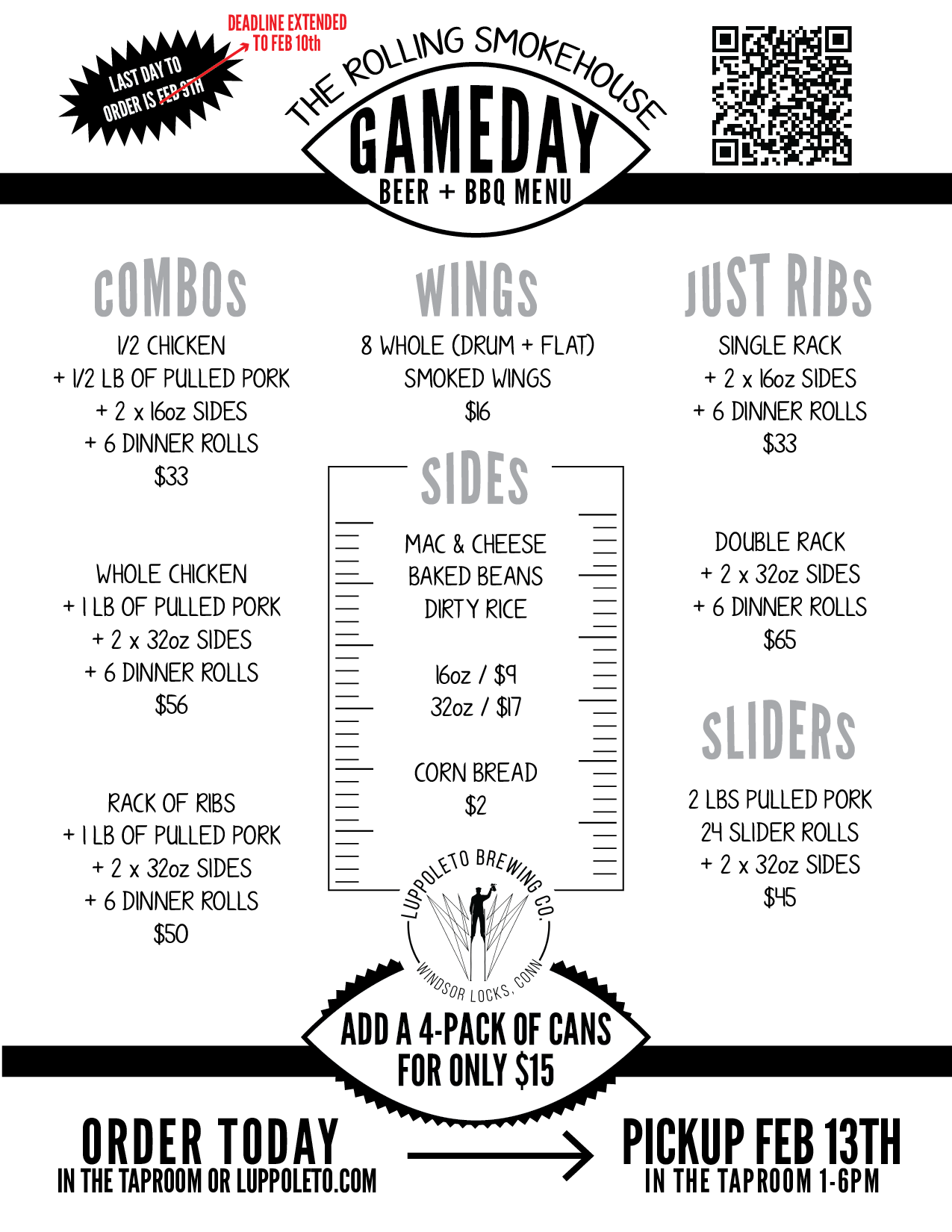 Choose your meal from ribs, whole smoked chicken, wings, pulled pork sliders and a selection of sides & sauces. Plus you can add a 4-pack of Luppoleto beer to any meal for only $15. Order now for pickup in the Taproom on February 13th. You will be able to pickup anytime during our normal taproom hours on Sunday. Curbside pickup is also available.
All food will come with reheating instructions and sauce on the side & orders must be received by Thursday February 10th.
Have questions? Contact Us and we will accumulate Frequently Asked Questions here.
FAQ's
Do I have to order ahead of time? Can I just come on Sunday and buy something?
We may have a few extra items on Sunday, but don't count on it. Orders must be placed by Feb. 10th.
Do I have to get beer?
No. We'd like it if you did but we're also happy you are supporting our friends at Rolling Smokehouse. They have been great to us.
Do you like rainbows?
No. Wait…oh RAIN-BOWS! Yeah I love those things. They're very pretty and usually signal the end of rain. But we also like rain sometimes. And unicorns.