Hours & Directions
Our Taproom is Open with Limited Seating. Our Patio / Biergarten is available – weather permitting – for additional outdoor seating. We will continue to offer Curbside Pickup whenever the Taproom is open.
Our Hours
Taproom

We are open for tall pours in disposable (compostable) cups:
WEDNESDAY: 4:00 - 9:00 PM << BONUS WEDNESDAY HOURS!
THURSDAY: CLOSED FOR THANKSGIVING
FRIDAY: 4:00 - 9:00 PM
SATURDAY: 1:00 - 9:00 PM
SUNDAY: 1:00 - 6:00 PM
We will adjust our hours as necessary, while carefully complying with safety guidelines. Masks required when not seated.
Patio / Biergarten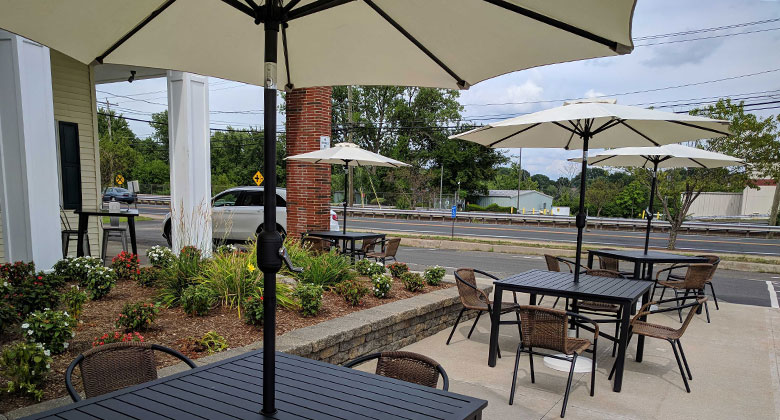 During the Taproom hours above, we will usually have outdoor seating available in the small patio area towards the front of the plaza; we're calling it a Biergarten as that sounds far more exotic & desirable. So whenever we can open the Biergarten (weather permitting) we will post on our Social Media accounts to let you know!
Curbside Takeout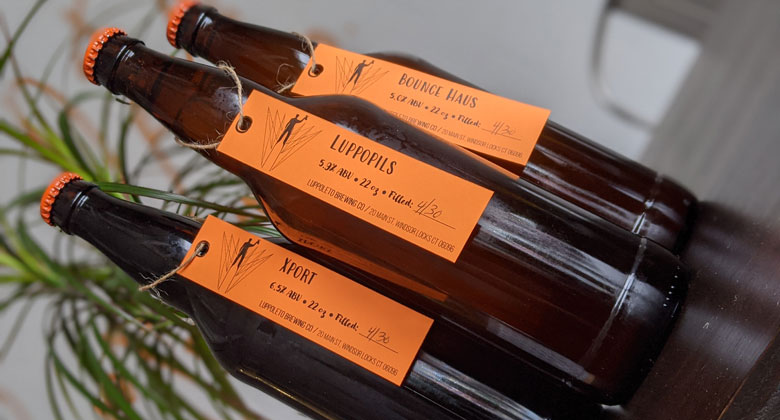 For those who are not ready to visit the taproom, we will continue to offer takeout beer thru our online shop. Order by 5 PM for Same Day Service on any day we're open.
Before Your Visit
Reservations
Reservations are not required. If the Taproom or Biergarten starts to get full we will post Call Ahead / Reservation instructions on Social Media. Be sure to follow us!
Location
We are located in North Central Connecticut, just off RT-91 in the same town as Bradley International Airport:
Dexter Plaza
20 Main Street
Windsor Locks, CT 06096

Food
COVID UPDATE: There is currently a requirement that patrons purchase a meal, from on-site restaurants or food trucks as a way of distinguishing our taproom operation (currently allowed) from a bar operation (currently not allowed). See our Re-Opening Post for details.
We regularly stock snacks from Drunk Alpaca, occasionally have giant pretzels or other goodies from nearby Hartford Baking Co. We've also added a regular rotation of food trucks to compliment our neighboring restaurants: Moon Star and Pizza Time. Or you can bring your own food (usually).
Health & Safety
In light of the ongoing pandemic, please review the Safety & Food Guidelines prior to your visit to ensure you are able to comply. (TL;DR Mask Up when not seated, Order Food when you arrive)
---
Be the first to know
Like & Follow us on the socials for the latest seating availabilty, tap lists, Taproom & Biergarten status. It's the fastest way to stay up to date.
---
What to Expect During Your Visit
Two Sizes, No Flights
COVID UPDATE: We are temporarily suspending glassware use and have switched to a single use 16 oz compostable cup.
We offer 2 sizes: a "Pint" and "Half-Pint". These are actually poured into glassware that has been sized to accomodate head and your pours include MORE than a pint and more than a half-pint of beer.
We do not currently offer flights.
Growler Fills
COVID UPDATE: We are only filling new glass growlers or 22 oz takeout beer bottles at this time.
A brewery without beer is like breakfast without OJ (and you know what happened to him). We will fill small growlers of a selection of our beer based on availability.
We'll fill our own 750ml growlers, or any outside growler up to 32oz. Our system is quite small so if we fill full size 64 oz growlers regularly we will run out of beer. That said, if it's mellow in the taproom, you aren't in a rush, and we have LOTS of beer, we may do the occasional 64 oz fill. ;-)
It's very important to us that folks visiting the taproom have a wide variety to choose from. So when a new beer comes out, it will be available for growlers but when we're running low, we'll switch to "pours only".
Drinks, Other Than Beer…
Alongside our house brewed beer we offer a selection of Connecticut-Made sodas from Hosmer Mountain Soda, Cider from Connecticut Cideries New England Cider and Spoke + Spy Ciderworks. Along with a Red, White & Sparkling wine options. For details, check our Beer Alternatives page.
Pet Policy
Unfortunetely, per our local health board, pets are not permitted in the taproom. :-(