Community Supported Agriculture At Luppoleto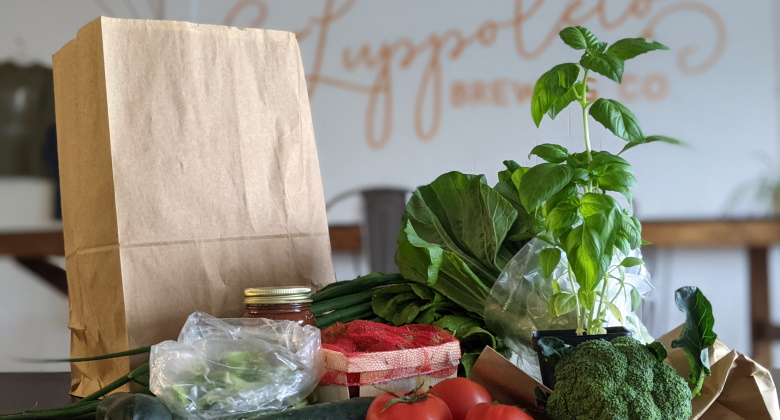 What if you could pick up fresh local produce with fresh local beer at Luppoleto?
That's what we're working on right now! The farmer needs 20 sign-ups to make it worthwhile so join now!
What You Get
$499 gets you a half-share of veggies from Newgate Farms in Windsor CT.
Each share is enough to feed 2-3 people
14 weeks of fruits & veggies (~$36 / week) (list of veggies by season)
Beer Add-On
CAN UPGRADE
Get a 4-pack of Luppoleto cans each week with your veggie pickup!
SAVE 25%! That's ~$4 OFF per 4-pack
Choose Either: Variety Pack (we put together a mix) -OR- Freshest (we give you 4 cans of the latest beer)
Add-On Price: $189
GROWLER UPGRADE
Get a growler fill with each veggie pickup.
SAVE 25%! That's $2 OFF per 750ml fill
750ml Luppoleto Growler Glass Included
Add-On Price: $84
TAPROOM UPGRADE
Prefer to drink a fresh draft beer when you come for a pickup? No problem!
Get Happy Hour Pricing ALL NIGHT On Pickup Days (for you and anyone on your tab)
That's $1 OFF Tall Pours / $0.50 OFF Half-Pours
Add-On Price: $20
PRETZEL UPGRADE
Ok…this isn't beer, but it's still awesome! Get one of our Fresh Giant Soft Pretzels made by Hartford Baking Co with each veggie pickup.
Save $2 per pretzel
Add-On Price: $70
What We Need From You
If you would like to participate please stop by our Taproom anytime we're open by June 12th to fill out an application form and submit your payment (check is preferred).
FAQ's
Here are some answers to questions we've gathered thus far. As we get more questions we will update this area with more answers.
Q: When do the pickups start?
The first pickup will be Thursday June 16 and it will run through September 29 (but no pickups on June 30 or September 1 for the holiday weekends).
That's 14 weeks total.
Q: What happens if we can't pickup?
Your share will be donated to the food bank.
Q: How much food are we talking about?
Each week you will get 1 grocery bag filled with enough produce for 2-3 people.
Q: Can I pay by Credit Card?
Yes, but the farm will pass along the Credit Card fee of $16 for processing the CSA payment. Check is preferred.
You can pay for your Beer Add-On via Credit Card for no additional fee.
Q: Is this the farm where James worked in his youth?
Yes, it is. James will never, ever, ever weed onions again. Ever.
Veggies By Season
Here's an idea of what your share will include through each season.
Spring
beets/greens
scallions
broccoli
spinach
strawberries
collards
Swiss chard
kale
radish
lettuce
arugula
herbs and more.
Summer
beans
beets
blueberries
broccoli
cabbage
carrots
corn
cucumbers
eggplant
herbs
lettuce
onions
parsley
cilantro
peppers
potatoes
raspberries
summer squash
tomatoes
zucchini
Fall
apples
beans
beets
broccoli
Brussels Sprouts
cabbage
carrots
cauliflower
cilantro
herbs
lettuce
onions
pears
radish
sweet potatoes
tomatoes
turnips
winter squash (butternut & acorn).