League Charter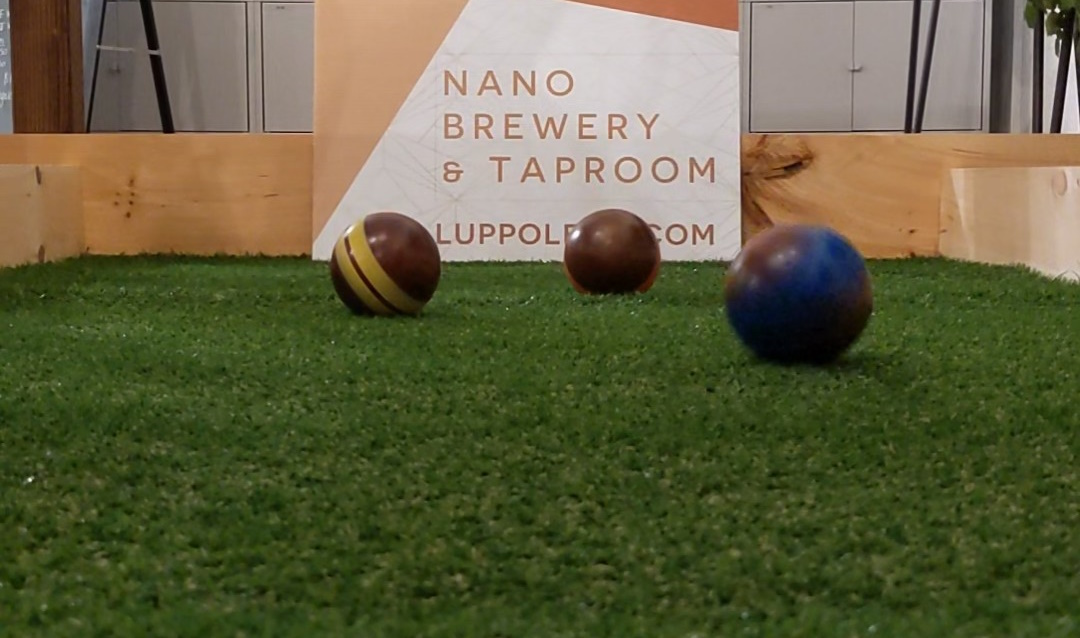 Luppoleto Bocce League
Like our tiny brewery, this bocce court is a mere 24 ft x 4 ft…or 7.3 meters x 1.2 meters for our European friends. She plays very fast, and requires a gentle touch, a finesse that few have mastered…because few have tried. But that's about to change!
---
Teams
Each team roster must be 2-4 people. When recruiting team members, be sure to note that team members get 10% off drinks & snacks in the taproom on league night!
Registration: $25/team
Sign-ups begin at 4 pm on Wednesday May 31st in the Taproom.
The first 8 teams to register are guaranteed a spot in this round.
At least 2 team members (or designated alternates) must be present for your team to compete. If your minimum roster size is not met, you score a -1 for the week.
Alternates
If no one from the roster is available to play on a given week, the team may designate "alternates". The alternates will receive 10% off drinks & snacks on the night they play however, they are not eligible for the grand prize. Alternates are NOT permitted during the playoffs cuz there's a name for that, "cheating" or "ringers"….and this is supposed to be fun! So yeah, this is just for that inevitable scheduling SNAFU.
The League
Our goal is to get 8 teams in the league for each season.
The Season
With an 8 team league, the season will be 9 weeks long. This allows each team to play each other over the first 7 weeks. The 8th week is the semi-finals. Week 9 is the championship.
The next season will begin: June 14th, 2023.
There will be 4 x 45 minute game timeslots each Wednesday.
4:00 - 5:45 Open Play
6:00 Game 1
6:45 Game 2
7:30 Game 3
8:15 Game 4
Playoffs
The top 4 teams qualify for the Championship Tournament. Playoff games will be to 25 pts.
SEMI-FINAL (Week 8)
CHAMPIONSHIP (Week 9)
Losing Teams Play for 3rd
Winning Teams Play for the Championship!
GRAND PRIZE
The winning team will get a special trophy plus a 6-month Mugless Club Membership for each registered team member. Plus a spot in the Hall of Victorious-ness-osity!
---
Code of Conduct
There's Enough Fun to Go Around - Your primary objective here is fun. Enjoy yourself, get into it, be weird, be silly. However, remember there are other people here who are trying to enjoy themselves too. Just be mindful of them.

Fra-GIL-eh Must Be Italian! - There is fragile stuff around; like windows, beer glasses, tvs, and such. Try to keep the balls on the field of play to minimize opportunity for breakage. And keep your glassware clear of the active play zone.

Hey You Kids! Get Off My Lawn! - It is obviously neccesary to walk on the playing surface to evaluate ball proximity and retrieve the balls at the end of a round. However, we'd ask that you try to avoid walking on the turf when it isn't neccessary. Mainly we don't want to wear out the surface and we don't have a great way to clean up dirt clomps and such off of it.

Don't Make me Call Cousin Joey - If you got a problem, "Yo, I'll Solve It". That's Jen's motto. She is very good at managing, descalating and resolving conflicts. We hope it doesn't come to that, but if it does, Jen's there to help. And if that doesn't work, James Anthony will call in his Cuginos and they'll handle it…know-what-I-mean?