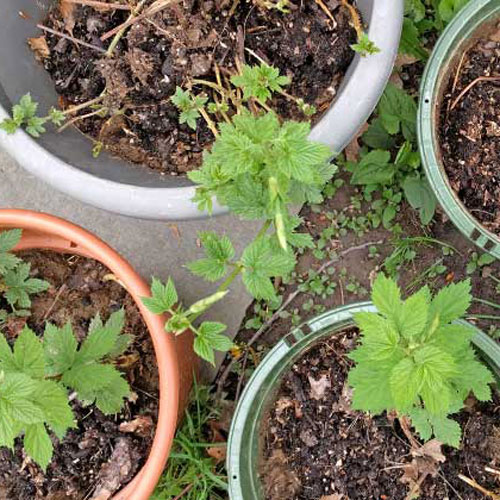 Putting Down Roots
This beer uses ingredients from our Community Hopyard Project and Thrall Malt to build an ultra-local beer. If the barley was grown in one of the Windsor fields, all the ingredients will have been sourced from about a 5-mile radius of the brewery! Now that's drinking local!
The beer itself loosely follows the template of Raiders of The Last Hops, the beer James brewed at Beer Camp. It is a hoppy not-quite-red ale similar to "Celebration" that Sierra Nevada Brews with their fresh estate grown hops.
With our Community Hopyard, we are literally putting down roots in Windsor Locks but beyond that, and beyond creating a warm and inviting place for locals to enjoy pints & conversation, we are committed to supporting a Windsor Locks Charity.
2021 Charity: Friends of the Windsor Locks Canal
During the Luppoleto planning & construction phase, the Canal path in Windsor Locks offered a peaceful retreat from the chaos. James took photos of all kinds of wildlife: owls, bald eagles, herons, falcons, and osprey as therapy. During COVID, it was a nice way to get out of the house and into nature between brewing tasks. And with the advent of our running club in 2021, about a dozen or so folks run/jog/walk up the path every Thursday to earn their beer! Most recently, we joined forces with the Connecticut River Conservency group to pick up litter along the path while jogging!
We get so much value out of this little path – squeezed between the canal & Connecticut River – We decided this year to donate to the Friends of the Windsor Locks Canal to help mainatain this 4.4 mile strech of tranquility.
2020 Charity: The Grove Street Garden Project
A portion of sales from the 2020 batch of this beer went to a project called The Grove Street Garden. This project is a joint venture with local volunteers, Future Farmers of America and Suffield Vo-Ag School (which takes students from Windsor Locks & Suffield) where students learn to grow food in a small garden and their fresh produce is donated to the Windsor Locks Food Pantry. This seemed like the perfect way to connect our community hopyard project to support agriculture & provide some fresh food to Windsor Locks families in need.