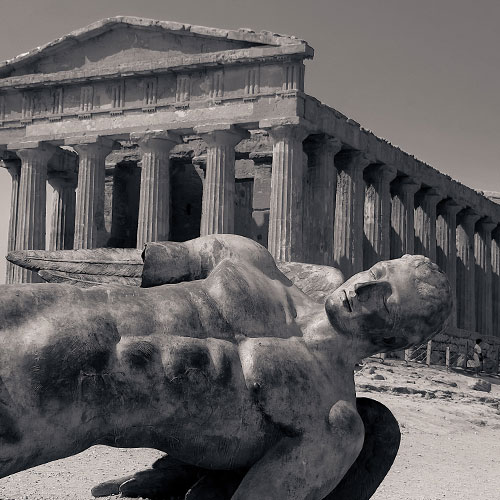 Careful Icarus
With loads of Galaxy hops, Citra & Calypso, this beer brings the typical New England IPA flavors and aromas but it lacks the hazy appearance. We get strong pineapple and tropical fruit notes with a subtle hop bite, lush mouthfeel and a touch of honey-like sweetness on the finish.
BREWER'S NOTE: As someone who loves clear beer, the appearance of this one is…a work in progress. Last batch, we optimized our process for maximum HAZE. And it was a bit more murky than I'd prefer but, that is the battle you wage when you seek long lasting haze. Often you start with a more substantial, thick haze that settles over time into a brighter but NOT clear state. This time, we altered our process for medium-haze and it's pretty dang clear. Anyway, it tastes pretty good even though it has looked different each time we brewed it, the ingredients are the same - we just tweaked the dry-hop / yeast management process. I think I prefer the clearer iteration but that's just old-school James coming thru. ~ JW
---
Naming beers is tricky business. With so many breweries making so many different beers, it is nearly impossible to pick a unique name without venturing into esoteric territory. We have used Italian words, made up our own Italian-ish words, and even sprinkled German words and the occasional nonsense word into the mix.
But, believe it or not, we actually have a method to our madness. Nearly all of our IPA names have to do with the various ways in which one might be able to reach the top of a hop trellis. Stilts, a Staircar, and even Rocket Boots represented some semi-grounded (!) concepts. Things got downright silly with Bounce Haus and Double Bounce. Now we give you the most silly of all; the mythological Icarus soaring to the top of the hop trellis with his wax wings.
The exact name was drawn from a bit that James still randomly quotes from the Late, Late Show with Craig Ferguson.