Artist Spotlight
Stephanie Garofalo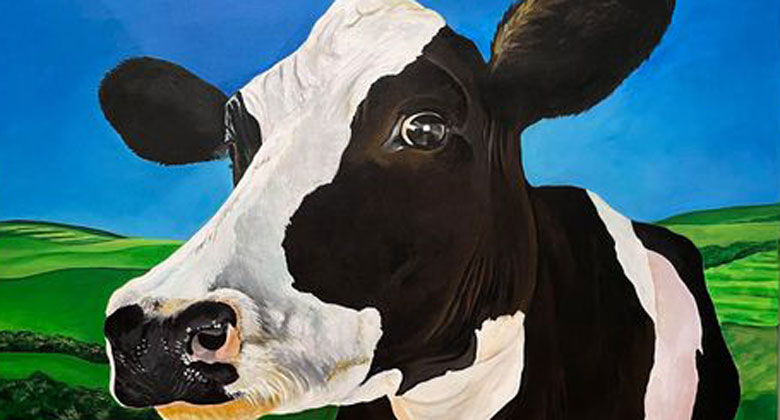 At the Luppoleto Gallery: May 2021
Stephanie Garofalo loves to explore all mediums of art such as paint, pencil, marker, even embroidery, but she mostly chooses to paint using acrylics. Her recent painting subjects tend to be close-ups - whether it's animals or flowers, she enjoys focusing on one aspect of a particular subject, rather than a zoomed out view, to connect better with the painting.
Art has been in Stephanie's life since she was a child, taking art classes in her hometown of Milford, CT. Later, she went to college at Eastern Connecticut State University, majoring in Art, with a focus on Graphic Design. Her love of the fine arts led her to a professional career in commercial art, working for small businesses and worldwide corporations. Both have given her experiences that help her to be a well-rounded designer - able to truly understand the client's needs and wants in order to deliver a product that is perfect for them. She likes to think of it as problem solving, with art.
Stephanie has been inspired by her college mentor and professor, June Bisantz-Evans who helped start her on the path to being a creative professional. June is a well-accomplished artist, graphic designer and college professor who gave Stephanie the guidance, confidence, and direction to start her journey. In addtion, Stephanie finds inspiration from retro artists such as Andy Warhol and Roy Lichtenstein who created artwork that was both commercial and avant garde.
These days, her most satisfying subject would be the cows. She loves painting large scale and with lots of details - one of the first cows she painted, a close up of a cow in a field sniffing a clover, always makes her smile. Recently, Stephanie has been trying to explore a more loose style of painting, however she can't unsee those fine details in a subject which really make a painting pop - as if the subject is standing there right in front of you.
Creating art, of any type, is what truely makes Stephanie happy. For her, art is not just an action or a hobby, it is a state of being. She feels that art is life and everywhere we look, everything we see and hear, all contribute to artful experiences. Art has become a necessity which she equates to exercising. For Stephanie, art is her yoga - a time for her to be alone with her mind and her art, and truely connect with what she's creating.
Check out her Facebook page @garofalocustom